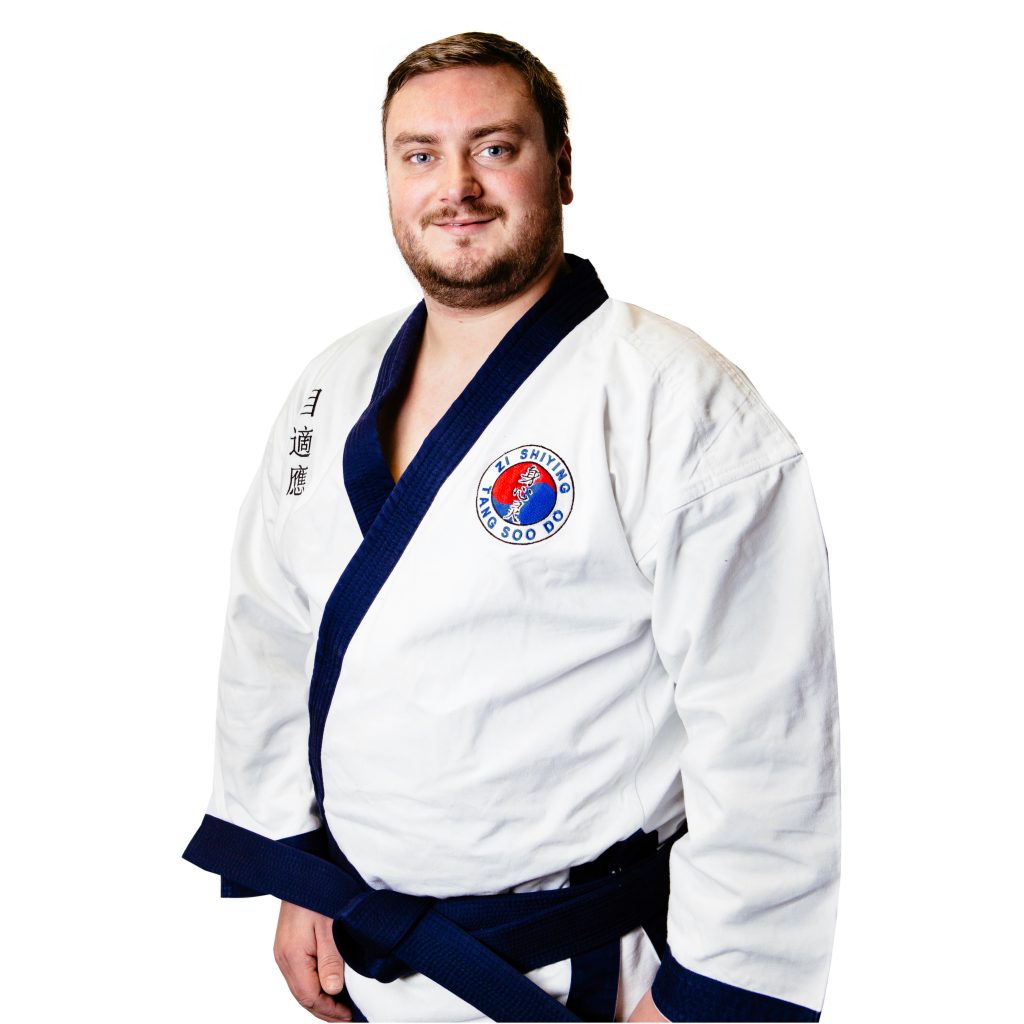 I started training in Tang Soo Do in 1993 when I was 7 years old. I was a very quiet child and one of the reasons I was sent to Tang Soo Do by my parents was to hopefully give me confidence and bring me out of my shell. At that point I would never have guessed that I would still be training today!
By December 2000 I had managed to achieve my goal, 1st Dan Midnight Blue belt and exactly a year later I graded to senior 1st Dan. By this time I was 15 years old and wasn't really enjoying TSD as much as I used to, but I also had other things on my mind like GCSE's and wanting to spend more time with friends so made the decision to hang up my belt. I had been training twice a week ever since I started TSD and upped my training to 3 times a week for the last 3 to 4 years, I suppose as a child I trained a little too much and that's what made me get bored of it.
It wasn't until 2008 whilst sat at home wondering how I was going to shift the weight I was gaining ever since leaving school and discovering alcohol and junk food, that I had the idea of returning to Martial Arts. The hunt was on, I had to find my old club and my old friends again! An hour or so searching on the Internet threw up a local Tang Soo Do club who's name I didn't recognise but faces on the website I instantly recognised. That next night I went to see Masters Dave & Craig Moat at Northfield school where the class was now being held and had a chat about returning to Tang Soo Do. From then on I've never looked back! It took me a few months to re-learn my old Hyungs and even longer to re-learn how to be as flexible as I used to be (which I'm still learning how to do today)! I re-graded to senior 1st Dan in 2011 and after a great deal of training and dedication I graded to 2nd Dan in 2012. I would like to take this opportunity now to thank Master Craig Moat for all the time he invested in me to help in my preparation for my 2nd Dan grading, I wouldn't have the knowledge and/or experience without him.
Tang Soo Do has now become a very big part of my life, especially as my son has now also started training.
Over the years classes have changed dramatically especially since January 2014 when myself, Master Craig Moat, Peter Moore, Amy Warrior & Joseph Zielinski decided to start our own Tang Soo Do club called Zi Shiying Tang Soo Do. I am now the clubs secretary/treasurer so have taken on responsibility of helping the new not-for-profit club run smoothly. Master Moat has taken the traditional elements of Tang Soo Do and we are all slowly relearning the art how it was originally intended to be taught, this will be a very long process which involves all instructors and students to bring what knowledge they have to the club.
Another important aspect of Zi Shiying Tang Soo Do is the self protection side to the art. We teach practical self defence techniques which bear very little resemblance to Tang Soo Do techniques we have learned in the past. I do not believe in learning so many varied self defence applications, as in a situation where self defence is required, your defences need to come naturally (the last thing you want to be doing is standing thinking of which block to use as a fist is flying towards you)! Defences should be kept as simple and effective as possible and should inspire confidence that you are able to take control of a difficult situation with tried and tested methods that are of relative ease to execute.
I would certainly never criticise self defence techniques I have been taught over the years, as executed perfectly they are very effective, however if a student cannot execute a required technique to the required standard in a difficult confrontational situation where does that leave the student? Wondering if the techniques work at all? Wondering how long it will take them to perfect them? Wondering if they will ever perfect them in time for them being required? These are all questions I have asked myself as a student of Tang Soo do, and this is why I am so passionate about teaching basic effective self defence techniques.
I hope you have enjoyed reading about my personal journey and hope it may inspire you to give Zi Shiying Tang Soo Do a try.