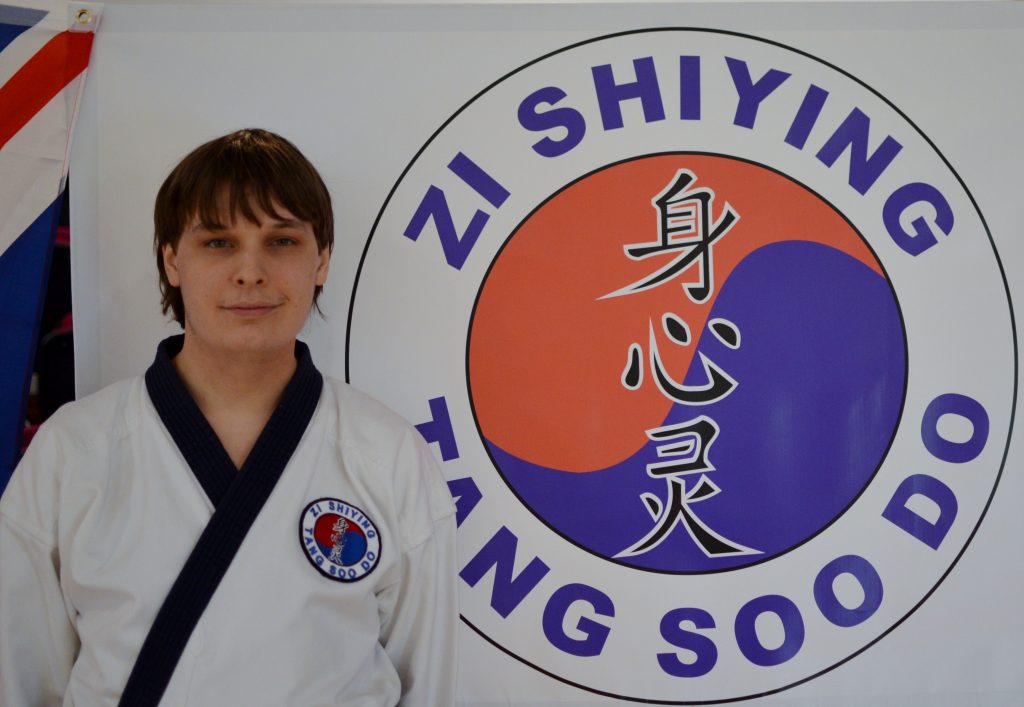 I joined the club in 1993 at the age of 7. I stayed with the club for 10 years until I left in order to study at university. During my time at university I was diagnosed with rheumatoid arthritis which made it very hard to perform physical tasks, however with the help of the Rheumatology department at North Tees the correct treatment was found and I returned to Tang Soo Do in September 2012.
During the 16 months with which I was with Tang Soo Do Ho Sin Sul I achieved my Senior 1st Dan grade. In the months leading up to the creation of Zi Shiying I began to feel like I needed to be doing more to improve my own skills.
The club had undergone changes in the 9 years since I had left and at first it was challenging having to learn new techniques and adjust the forms I had learned to the Ho Sin Sul style but I took to it well and after a few months was asked to instruct the lower grades.
I am a great believer that rather than teaching a martial art in a parrot fashion each student needs to be able to determine their strengths, improving upon what works well for the individual, but also been able to develop alternatives to techniques that the individual is less proficient with.
In April 2013 I decided to augment my training by joining the Mujushin Karate Association. I have achieved 1st Dan grade with the school.
Since starting up Zi Shiying Tang Soo Do I have taken an active role within the club as the Child Protection officer. As a group we have worked hard to provide a nurturing atmosphere for both the students we teach and ourselves, allowing us to trial new self-defence methods before rolling them out with the rest of the club.
In 2014 I achieved my 2nd Dan which was a great achievement for me. I am committed to the clubs anti –bullying campaign in schools and to the further development of our own self defence teaching, danger assessment, awareness, conflict avoidance and the implications of conflict (or violence). I have a background in working with children, having been a teaching assistant for 6 years. This has allowed me to instruct at a higher level due to been able to communicate in a clear and concise way with both adults and children alike. I have recently worked with Oakdene school to provide an after school class for the Winter term, which proved popular and enjoyable for the students